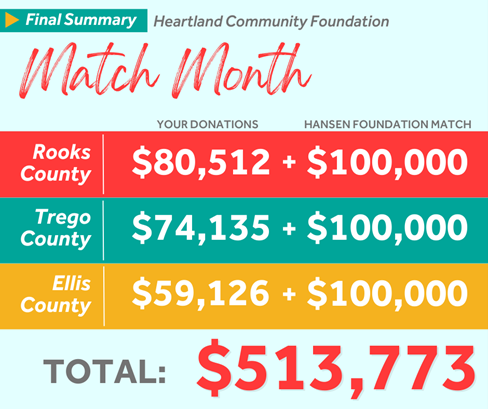 Heartland Community Foundation raises $213,773 during Match Month for Rooks, Ellis, and Trego Counties; Earns an Additional $300,000 in Match Dollars from Hansen
HAYS, Kan.— The Heartland Community Foundation is excited to share the success of our February Match Month campaign. With thanks to the generous donors in Ellis, Rooks, and Trego counties, a total of $213,773 was raised: $59,126 in Ellis County, $80,512 in Rooks County, and $74,135 in Trego County. Donations were received from 309 donors.
This year, the Dane G. Hansen Foundation provided a generous 200% matching gift – an increase from the 150% in recent years  – up to $50,000. This means the campaign generated a grand total of $513,773 for our County Legacy Funds with the addition of the match dollars. Every dollar raised stays in the community in which it was given. The funds are endowed with our other investments. We a portion of the investment income to make grants to charitable organizations in the community for new and important projects and programs. The money given will continue to grow and make grants for generations.
"We would like to extend a huge word of thanks to everyone who participated in our Match Month campaign this year. Without the generosity of those in each community, we would not have made our goal," said HCF Executive Director, Sarah Meitner. She continued, "We are stronger when we work together. Thank you for investing in our communities."
This was the seventh annual Match Month campaign hosted by the Heartland Community Foundation. More than $1 million in donations from donors have been raised in that time, helping to grow these very important community impact funds. In 2022, HCF granted $424,772 to 67 organizations for 129 community projects.