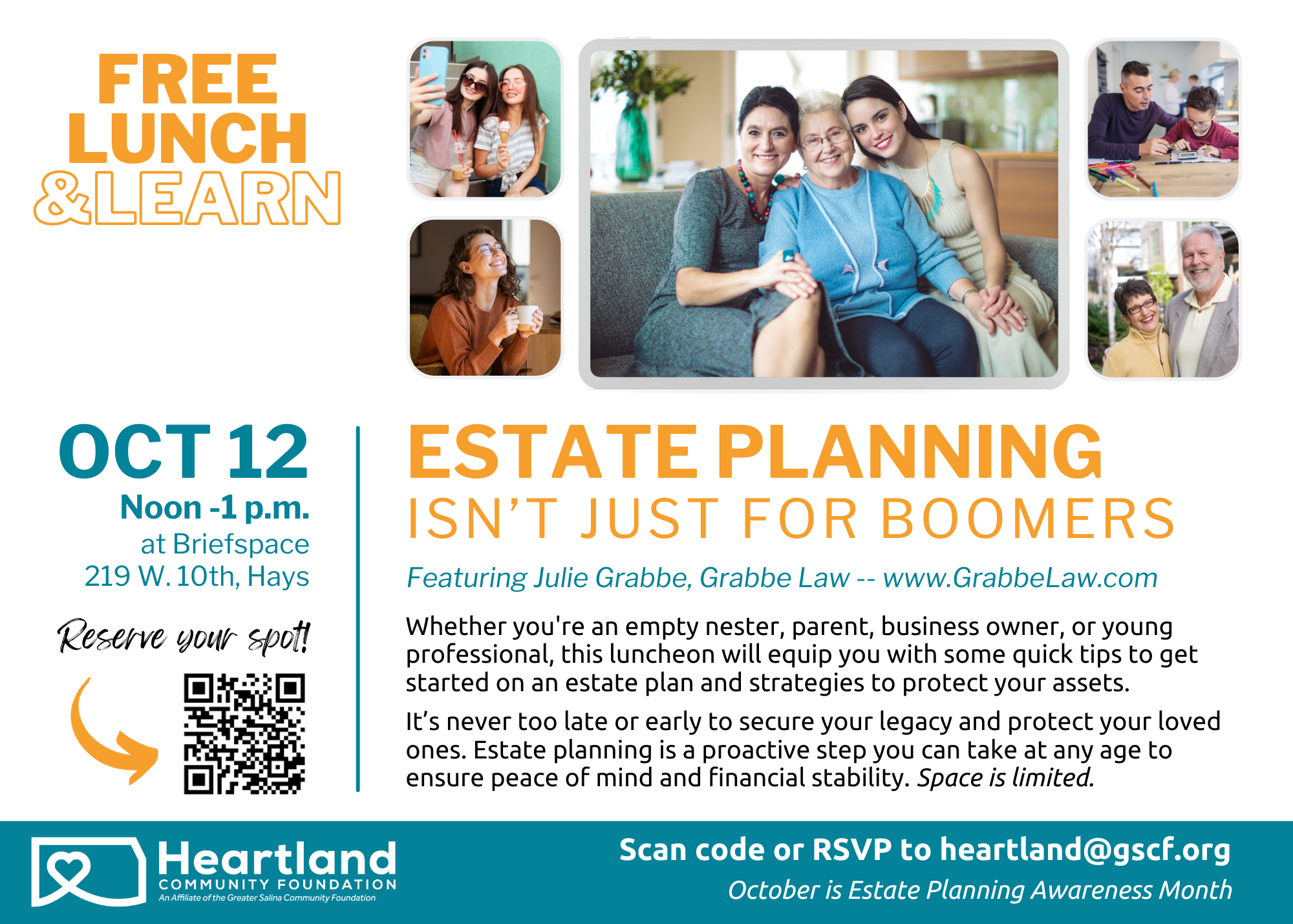 Heartland Community Foundation Offering FREE Lunch & Learn, Oct. 12: Estate Planning Isn't Just for Boomers
HAYS, Kan.— It's never too late (or early) to secure your legacy and protect your loved ones with an estate plan, whether you are a Boomer, GenX, or Millennial. The Heartland Community Foundation is pleased to offer a FREE Lunch & Learn workshop for you -- "Estate Planning Isn't Just for Boomers" -- to share some practical strategies to get started at any age, featuring speaker Julie Grabbe of Grabbe Law.
Estate planning isn't just a concern for retirees; it's a crucial aspect of financial security for everyone, regardless of age or stage in life. Whether you're an empty nester, business owner, parent, or young professional, this engaging luncheon will equip you with quick tips to get started on an estate plan and strategies to protect your assets.
Event Details:
Date: October 12, 2023
Time: 12:00 PM to 1:00 PM
Location: Briefspace, 219 W. 10th St., Hays
Cost: Free and lunch is included
Estate planning is a proactive step you can take at any age to ensure peace of mind and financial stability.  Julie Grabbe will emphasize that estate planning is not just about wealth preservation but also about securing your legacy and ensuring the well-being of your loved ones. October is also the month recognized as Estate Planning Month.
You will also hear from Sarah Meitner, executive director of the Heartland Community Foundation, about free estate planning counseling services made available to individuals in Northwest Kansas, thanks to funding provided by the Dane G. Hansen Foundation. Through this opportunity and over a period of 4-5 visits, you will come away with a comprehensive outline for your estate and legacy plan that is ready to take to the attorney of your choice for full execution. Having a well-intentioned and comprehensive plan will ultimately provide cost savings, in addition to peace of mind.
Space is limited at the luncheon, so reserve your spot today here: https://forms.gle/Xc6S386sKC1CgLVW8 or email Heartland@gscf.org. This is a unique opportunity to gain valuable insights into estate planning from a respected professional. For more information, contact Sarah Meitner, executive director, at 785-621-4090.
For more information about the Heartland Community Foundation, to make a donation to one of the funds managed by the community foundation, or to apply for a grant, visit www.heartlandcommunityfoundation.org. Look for the GIVE ONLINE button to make a charitable gift. To follow the latest news, view grantee profiles, or see featured funds, follow Heartland on Facebook at @HeartlandCF.