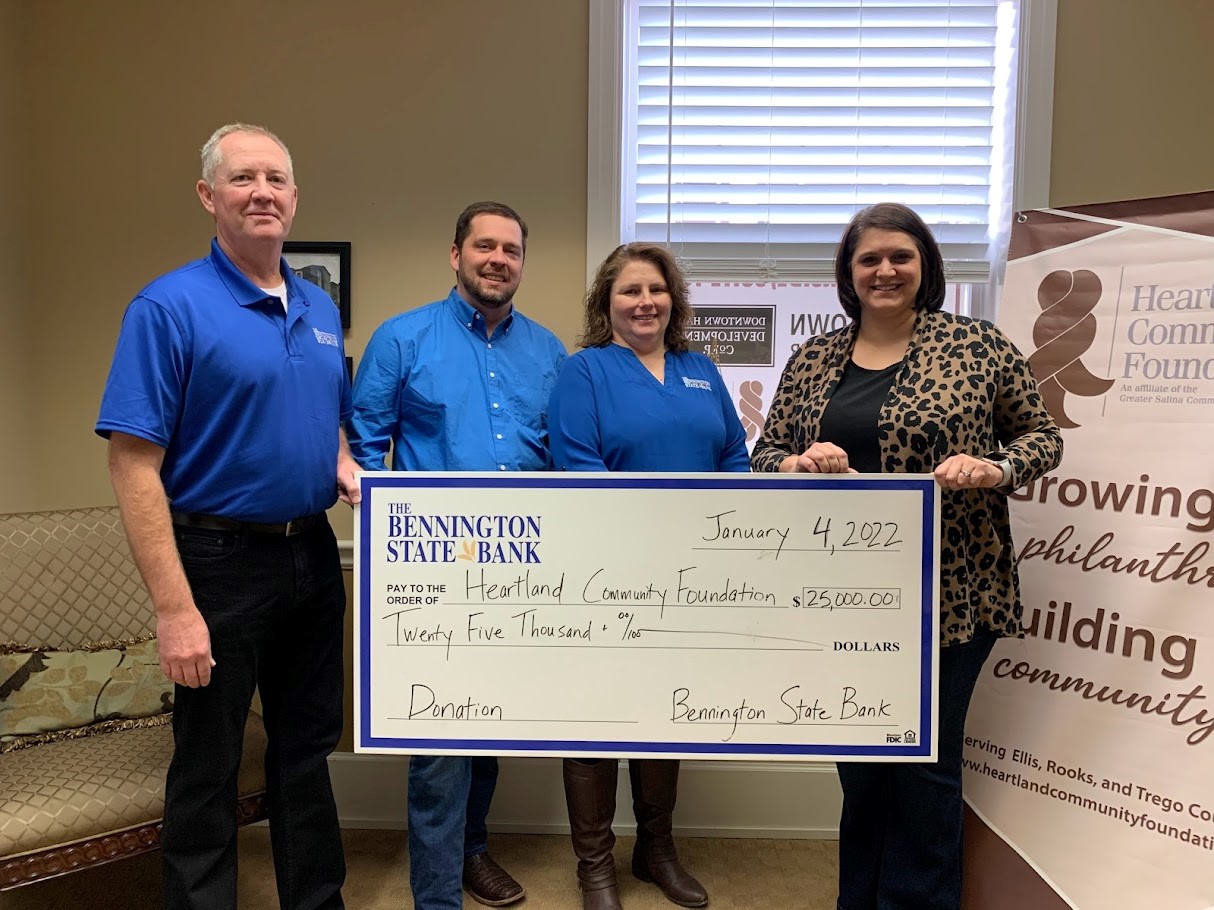 Heartland Community Foundation Receives Corporate Gifts to its Disaster Relief Funds
HAYS, Kan.— The Heartland Community Foundation recently received three noteworthy corporate gifts to its Area Disaster Relief Funds, helping to ensure that those people impacted by the fires and windstorm last month can receive assistance.
Bennington State Bank made a $25,000 gift to the Disaster Funds, earmarking $10,000 for each Ellis and Rooks Counties and $5,000 for Trego County. Heartland Dermatology in Hays made a donation of $5,000 to the funds, while Western Electric Co-op in WaKeeney made a donation of $4,000 -- $1,000 for each county, plus an additional $1,000 for Russell County.
In total, $49,182 has been received for Disaster Relief since the funds were established Dec. 17; Heartland Community Foundation also contributed $30,000 to establish the funds.
The Ellis County Disaster Relief Fund, the Rooks County Disaster Relief Fund, and the Trego County Disaster Relief Fund are available now to grant money to nonprofit organizations offering relief services in the affected areas – including individual families who were impacted.
Nonprofit organizations, schools, churches, and other agencies that are providing direct relief help to people, property, or livestock in the impacted county may be eligible for grant money. Charitable organizations may apply by visiting www.heartlandcommunityfoundation.org. Click on the "Disaster Relief" button and look for "Apply for a Grant" on the page. The application is brief. Or, contact Sarah Meitner, HCF Executive Director, at 785-621-4090 or sarahmeitner@gscf.org. The application deadline is January 21, 2022.
Heartland is still encouraging residents and businesses to make a tax-deductible donation to their county's Disaster Relief Fund or to consider doing so in the future. The money donated in each county will only be used to make grants to agencies serving that county. The impact of a $100 or $1,000 donation is much larger when combined with the donations of others.
Donate online at www.heartlandcommunityfoundation.org or mail your donation to: Heartland Community Foundation, PO Box 1673, Hays, KS 67601. Please note whether your gift is for the Ellis, Rooks, or Trego Disaster Relief Fund. Thanks to all those who have already donated.